Mr McLaughlin's in Guyana!
Mr McLaughlin's in Guyana!
21 July 2017 (by A Blackburn (head@ststephens.surrey.sch.uk))
Mr McLaughlin has sent us a letter all the way from Guyana in South America.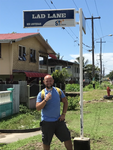 Mr McLaughlin arrived in Georgetown, Guyana safely on Saturday the 15th July. He will be working alongside and providing training for local teachers. You can read a copy of his letter on the newsletters page on the website.